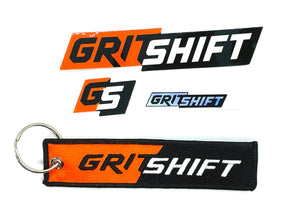 If you landed on this page you must be a supporter of all things electric and an even bigger supporter of great times on the trails, at the track, or anywhere between.
Moreover, you probably know all the fastest e-bikes are supported by GritShift.
Not interested in hot rodding your SurRon and are afraid "The Other Company" will void your warranty? That's okay too.
You can purchase the keychain and sticker pack and still have the added kw's to your bike with no issues of warranty voids. (Results Depend on Personal Imagination)
Includes
1 Large black and orange logo
1 small black and orange monogram
1 small chrome and black logo
1 embroidered keychain in black and orange
Peak performance gains of up to 5kW (largely rider confidence based)
Fitment
Universal Fitment